A Father and Son Team, Working For You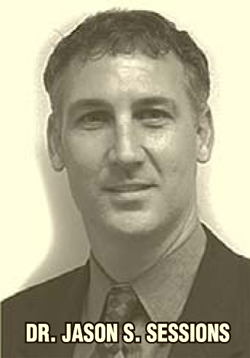 Dr. Jason Sessions
Jason Sessions was born and raised in Charleston, SC. He earned his Doctor of Chiropractic degree from National College of Chiropractic in Lombard, IL in 1994, a Certified Chiropractic Sports Physician certificate in 1996, and a master's degree in Industrial Organizational Psychology in 2012. He has been the chiropractic physician to the South Carolina Stingrays professional hockey team since 1994 to present.
Jason opened the Johns Island practice in September of 1994. In addition to chiropractic manipulation, he uses modern therapeutic modalities and physical therapies such as electrical stimulation, exercise protocols, massage therapy, and decompression to reduce and eliminate pain.
Jason recently married Jennifer Wollenhaupt in July 2017 and has a step daughter, Ellie, and a golden retriever, Sophie.